TIPS FOR PROTECTING YOUR SKIN THIS SUMMER

Posted on April 27 2013 by Teddie Kossof
We all know how important it is to incorporate sunscreen in our daily routine. Although admittedly, some of us aren't too eager to take the extra step and make the extra effort of slathering another layer of product onto our skin.

So how do we keep our beauty routine simple and at the same time, get the sun protection we direly need?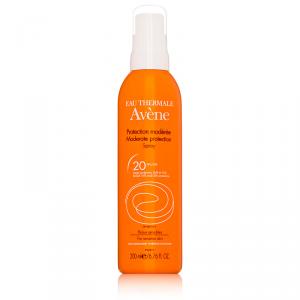 Avene, the same France-based brand that brought us those soothing and therapeutic skin care products, just came up with a solution: Avene Sunscreen Spray SPF 20. Featuring the best of both chemical and mineral formulas, this sunscreen offers full, broad-spectrum protection, shielding your skin from premature skin aging (caused by UVA rays), as well as from sunburn and skin cancer (caused by UVB rays). Among its other skin-benefitting ingredients include glycerin, a humectant that has amazing hydrating properties, and Pre-tocopheryl, a photostable form of vitamin E and a powerful antioxidant that moisturizes as it combats age-accelerating free radicals. And if that's not enough, this hypoallergenic and non-comedogenic sunscreen is infused with the mineral-rich and biologically pure water of Avene Thermal Spring, making this the best sunscreen option for those who easily break out from other formulas.

Undoubtedly, it's the superior formulation that makes this sunscreen a cut above the rest, but we can't discount the fact that it's also packed in a convenient spray bottle form, making applying and re-applying sunscreen (every 2 hours is a must!) so much faster and easier! So spray on this sheer, lightweight and non-greasy formula on your face and body for a head-to-toe protection any time of the day!
What it is:
An all-over misting sunscreen that offers sheer, broad-spectrum protection.

What it's used for:
Avene Sunscreen Spray SPF 20 blends a highly effective combination of mineral and chemical sunscreens to protect your skin from UVA and UVB rays. The lightweight sunscreen not only shields from the sun's rays, but also contains patented Pre-Tocopheryl to ward off free radical damage that can lead to premature aging. Exclusive thermal water soothes and softens skin, keeping your skin healthy and radiant. 

See the entire line of Avene Sun Care