4 EMERGING HAIRSTYLES

Posted on March 1 2012 by Teddie Kossof
TREND 1: VERSATILITY IS IN
Hairstyle is now about versatility – the "instant looks" needed to blow your friends away on girls' night out.
Imagine straight to wavy on a daily whim. It's now possible. The techniques and products available now allow unprecedented flexibility for styling your hair day to day. The latest hair science treatments leave you with options: low-cost, low-maintenance ways to change your hairstyle on a daily basis.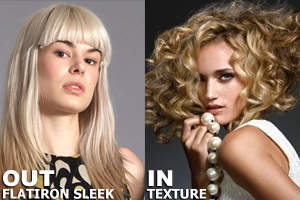 TREND 2: TEXTURE IS IN
Texture is the new look. Look for more texture, more definition, and more movement in hairstyles going forward. Solutions for enhancing hair texture are changing the way stylists think about hair.
Look for a softer spin on the 80's perm. Today's body waves don't leave hair dry and brittle from chemical treatment. In fact, healthy hair treatments add smoothing, moisturizing and volumizing effects to the hair that give it incredible body and texture.
 
TREND 3: SMOOTHING IS IN
Smoothing and straightening are no longer about style. They are about making your hair so manageable that you can do what you want with it today, and then do something different with it tomorrow.
Smoothing with Keratin Complex is a great option for eliminating the frizzies, which have given texture a bad name. Keratin uses a hot flatiron–over 400 degrees–that leaves you with pin-straight hair in the short term. Over the course of days your hair's natural wave returns, with a level of manageability that you never knew before. Hello texture!
Despite it's name, Japanese Hair Straightening is a remarkably effective way to gain volume and wave, otherwise known as texture. The treatment permanently changes the structure of your hair–until it grows out–giving it controllability. You can wear it flat and straight alright–but you don't have to. Use hot rollers or round irons to create the style you are after. 

 
TREND 4: TEMPORARY IS IN
A new hairstyle is no longer something you have to live with for weeks. Temporary styles are in, and becoming more practical then ever. Even hair extensions–the clip-in variety–are becoming more temporary, thanks to the increasing popularity of do-it-yourself clip-in products, such as Hair U Wear, which is available now at Teddies.