KOSSOF SALON CONSIDERS COLLABORATION WITH NYC ARROJO STUDIOS

Posted on June 12 2011 by Teddie Kossof
Northfield, IL.  (May 11, 2011)… Teddie Kossof Salon Spa, one of the nation's largest independently owned and operated salons, located in Northfield, is considering a partnership with New York's renowned Arrojo Studios, and just finalized plans to bring top products from Milbon USA and Clarins Skin Care into the NorthShore by June.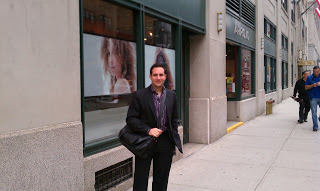 Alan Kossof outside the Arrojo Studio located on Varick St. in SOHO.
"I went to New York city on a research and development tour to bring back the latest and greatest products and services to Teddie Kossof Salon Spa," said Alan Kossof, Chief Operating Officer.  The one-day trip with Master Stylist, Agustin Flores on April 25th was a resounding success.
First, Kossof met personally with Nick Arrojo, celebrity stylist and salon owner of Arrojo Studios, and discussed industry trends and philosophies for running a successful salon operation.  The Arrojo salon is located in Soho, the heart of Manhattan's fashion and beauty industry. Designed as both a salon, cosmetology school and advanced training center, Arrojo Studios believes in raising standards across the hairdressing industry, comparable to Teddie Kossof Salon Spa's commitment towards education, inspiration and carrying an outstanding product line.
"I toured the salon because of their unique concept in blending a high-end salon with an educational program," said Kossof.  "By educating your stylist, you're engaging  clients.  Clients want to be seen by stylists who are passionate about their profession."
The potential partnership between Arrojo Studios and Teddie Kossof Salon and Spa offers a unique opportunity for stylists, colorists, the spa and Kossof's clients.  Stylists will receive personal training and access to New York's advanced hair care seminars, while clients benefit from the country's hottest celebrity trends and Arrojo products.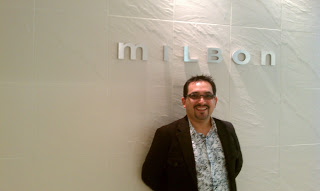 Master Hair Designer, Agustin @ Milbon USA in NYC.
Next, Kossof and Flores visited Milbon USA, Japan's top brand in hair styling products.  Flores received advanced training on a new product, "Cashmere Luminance," a smoothing hair system, specially formulated for those with color-treated hair as well as very fine hair.  This new service is 100% formaldehyde free, and its lightweight finish  provides volume and manageability for fine hair.  Cashmere Luminance will be exclusively available at Kossof's salon.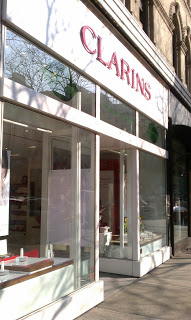 The Clarins Skin Spa located @ Columbus Circle in NYC.
The whirlwind tour concluded at the Clarins Skin Spa in Manhattan.  Kossof chose Clarins products because of the company's dedication to being a high-end skin care line with modest pricing.  "We're committed to growing the knowledge of our entire staff," said Kossof.   To learn more, visit http://www.teddiekossof.com/.